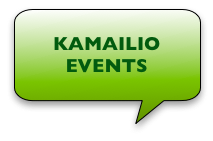 During August 3-6, 2015  a new edition of Cluecon Conference, takes place in Chicago, USA. Backed up mainly by the developers of FreeSwitch project, the topics at the event cover many other open source real time communication projects as well as open discussion round tables.
Daniel-Constantin Mierla will present about Kamailio on Tuesday, August 4, 2015.
Cluecon is a place gathering lots of VoIP folks around the word, many from Kamailio community, it is one of those events that one should not miss.
If you are at the event or around Chicago area during that time and want to meet to discuss about Kamailio, get in touch via sr-dev mailing list. If there are many interested, we can have some ad-hoc sessions and group meetings (e.g., dinner) to approach various topics about Kamailio.