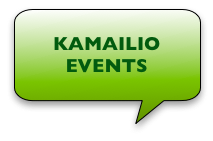 Fraunhofer Fokus Research Institute is organizing the 6th edition of FUSECO Forum during Nov 5-6, 2015, in Berlin, Germany.  Fraunhofer is the place where the SIP Express Router (SER) project started (which over the time resulted in the current Kamailio project),
The two days event combines practical workshops with panels and keynote presentations, revealing what is the trend in realtime communications, from classic telephony, 4/5G to IoT, smart cities and machine to machine communications.
For more details, see:
Representative from Kamailio community will be at the event, among them Daniel-Constantin Mierla (core developer), Dragos Vingarzan (initial developer of IMS extensions) and Elena-Ramona Modroiu (core developer).