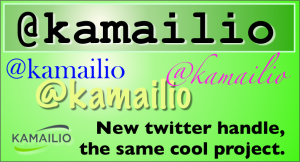 With the involvement of Daniel-Constantin Mierla, Henning Westerholt, Fred Posner, Olle E. Johansson and the assistance from Twitter Support, Kamailio SIP Server project is now able to use @kamailio handle on Twitter.
So far, Olle E. Johansson used @kamailioproject for pushing news about the project, because @kamailio was not available. However, there were situation when even people close to the project mistakenly referred to @kamailio when willing to actually mention Kamailio project (e.g., https://twitter.com/giavac/status/731398977053179905).
Kamailio is a registered trademark in European Union, process completed by Henning Westerholt many years ago. The main domains kamailio.org and kamailio.com are registered by Daniel-Constantin Mierla. There is no other relevant organization having the same name, therefore such situation was affecting the Kamailio brand. Twitter Support was open to listen to our story and finally we were assigned the @kamailio name.
The process concluded with renaming @kamailioproject to @kamailio, the old followers, tweets and discussions were kept intact. So if you followed @kamailioproject in the past you should see you are following @kamailio now.
If you haven't followed us yet, you can now be up to date with news about the project via @kamailio.
The @kamailio account is going to be shared-managed by several people, more details will be exposed soon.
Thanks for flying Kamailio! 
We hope to see you at Kamailio World Conference 2018 (May 14-16, in Berlin, Germany).