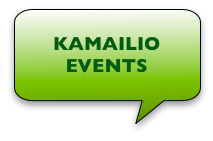 Kamailio is going to have a rich presence at Astricon 2014, Oct 22-14, 2014, in Las Vegas, USA – the event focusing on Asterisk and the eco-system around it.
With a close collaboration between the two open source projects, starting from early 2000 years, expect high quality talks approaching how-to and use case tutorials about combining Asterisk and Kamailio to build, secure, scalable and innovative real time communication systems and services.
Daniel-Constantin Mierla, Peter Dunkley and Giaccomo Vacca from Kamailio community will give presentations and are ready to meet on site and discuss with everyone interested in learning more about Kamailio and how to integrate it with Asterisk.
Looking forward to meeting you in Vegas!