Besides the IRC channels listed next, a Matrix chat room is also available at #kamailio:matrix.kamailio.dev for discussing all things Kamailio.
There are several IRC channels at irc.freenode.net, and one focused on Kamailio where you can meet the Kamailio Project users and developers, chat with, post questions or, even better, answer them. Many developers are on European time zones, so consider that if you need to reach one. If you do not get any comments or answers, please use the mailing lists.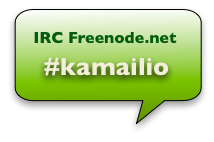 Server: irc.freenode.net
Old channels, not used any more:
Channel: #openser
Channel: #sip-router
Please observe the Kamailio Code of Conduct if you use this communication channel.