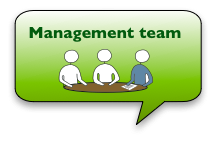 The Kamailio® project organization is coordinated by two teams:
Management Board – it is a group of people that oversees all the activities related to the project, being in charge of taking major decisions.
Administration Team – it is a group of people selected from the active community, with the role of coordinating the development and the evolution of the project.
The development decisions are still discussed publicly on sr-dev@lists.kamailio.org mailing list. Questions about how to use Kamailio must be addressed to sr-users@lists.kamailio.org mailing list.
Management Board
Members of Kamailio project management board are:
We would also like to acknowledge the contribution in the past to Kamailio project of the following retired members from management board:
You can contact the management group at: management [at] kamailio (dot) org
Administration Team
The members of Kamailio Administration Team are:
Carsten Bock
Charles Chance
Daniel-Constatin Mierla
Federico Cabiddu
Fred Posner
Giacomo Vacca
Henning Westerholt
Lucian Balaceanu
Luis Azedo
Olle E. Johansson
Oriol Capsada
Sebastian Damm
Victor Seva
More details and rules related to Kamailio Administration Team are available at:
Following administration working groups are defined:
Development and Release Management (DRM WG) – oversees the C code development for Kamailio and the releases. Members (and some of the major components associated with them): Carsten (Diameter and IMS extensions), Charles (Distributed Message Queue and Presence extensions), Daniel (core and major modules), Federico (http async client, tsilo and other major modules), Henning (core, memcached, database and other major  modules), Lucian (carrierroute, userblacklist, pdb), Luis (kazoo, db text, presence extensions), Olle (http client, snmpstats and other major modules), Victor (debugger, cfgt and other major modules)
Packaging and Continuous Integration (PCI WG) – in charge of packaging for major OS distributions and building of testing & continuous integration infrastructure. Members: Carsten, Fred, Giacomo, Lucian, Sebastian, Victor
Security and Critical Issues (SCI WG) – cares of the reports on security and other critical issues: Alex, Daniel, Fred, Henning, Olle, Victor
Systems and Infrastructure Administration (SIA WG) – sysadmin activities for Kamailio project servers and related portals: Daniel, Fred, Henning, Oriol, Victor
Social Media and Publishing (SMP WG) – manage official accounts on social media and curates the news related to the project. Members: Alex, Carsten Daniel, Fred, Olle
Events and Community Coordination (ECC WG) – organise events related to the project and coordinate community interactions: Daniel, Fred, Olle, Sebastian
The administration team can be contacted via email at: kadmin.team [at] lists (dot) kamailio (dot) org .