Co-Founder of Kamailio (OpenSER) Project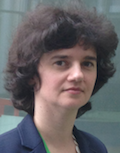 Elena-Ramona Modroiu joined SER (SIP Express Router) in the spring of 2003, just after several months since the project was publicly released. She became one of the most active contributors, with key modules like avpops, diameter support, pdt, speeddial, uac, xlog. Elana-Ramona has a Master degree in Computer Science and Engineering from the Polytechnics University of Bucharest, Romania, completing the studies at Politechnics University of Valencia, Spain, and Fraunhofer Fokus Institute, Berlin, Germany. In summer 2005, she co-founded the OpenSER project, renamed in 2008 to Kamailio.
Nowadays she works as VoIP and Kamailio (OpenSER) consultant at ASIPTO, focusing on innovative solutions and integration of SIP and VoIP with web2.0. She manages Siremis Project – an open source web admin application for Kamailio (OpenSER) – and has authored many tutorials about the Kamailio project, including Devel Guide, Pseudo-Variables Cookbook or Radius Integration.
Contact: www.asipto.com