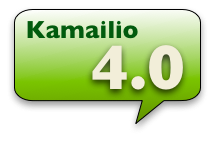 As we complete the merger between OpenSER, SER and SIP-router into Kamailio, we've decided to go ahead and remove all the old names in SNMP – we've been stuck with the "OPENSER-MIB" for a long time to make it easy to migrate.
For the coming release 4.0.0 we've changed to KAMAILIO-MIB and changed all the old object names starting with "openser" to "kamailio". The OIDs will remain the same as in previoius 3.x releases, using the Kamailio OID tree identifier.
As an example:


openserServer  OBJECT-IDENTITY


is now changed to


kamailioServer  OBJECT-IDENTITY


If you have imported the OpenSER mibs in your SNMP management platform, it's now time to import the new KAMAILIO management information base files. You can find the new ones in the git source code tree, waiting for the new release. Instructions for downloading the developer source can be found on this web site.