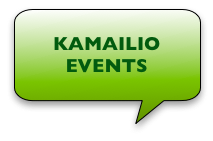 After a very successful dedicated conference, Kamailio World, the project continues to be present across the world for various events. During the next two months, one can meet with Kamailio developers or participate to dedicated events at:
LinuxTag, May 22-25, 2013, in Berlin, Germany – Daniel-Constantin Mierla will be moderator for two tracks, Agile DevOps on Wednesday (plenty of git) and Open Stack on Friday
Kamailio Advanced Training, June 24-27, 2013, in San Francisco, USA – coordinated by Daniel-Constantin Mierla, with a public meeting event planned for Wednesday evening
SIP Masterclass v2.0, July 1-5, 2013, in Malaga, Spain – coordinated by Olle E. Johansson
If you organize or participate to an event involving Kamailio, write us to publish the details here and help connecting with other community members in the area.
You can email to <business [at] lists.kamailio.org>.