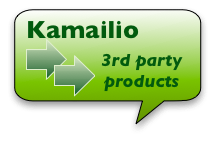 openrcs.com is a SIP service running Kamailio, offering the possibility to have a free account to everyone willing to connect to the world via SIP. It is mainly maintained by Daniel-Constantin Mierla, co-founder of Kamailio, with infrastructure sponsored by Asipto. Besides usefulness to have a SIP service around the project for ad hoc real time conversations, the service comes to be part of the last FOSDEM debates and suggestions to federate local communities via open standards.
It deploys (almost) latest development version, giving access to bleeding edge features. Among them, at this moment it enables voice, video communications, instant messaging and presence, webrtc calls, MSRP relay and XCAP server, open peering and TLS for encrypted signaling – click here to see a more detailed list.
If you want to create an account, click here to go to openrcs registration page.