On this day twenty years ago – September 3, 2001 – the first commit was pushed to source code repository (CVS at that time) of the project that became over the years Kamailio. The history of commits was propagated when the project moved from CVS to SVN and then to GIT as well as when going through different naming phases SIP Express Router (SER) – OpenSER – Kamailio.
❯ git log --reverse

commit 512dcd9838f5aeb0bfccd02cfc156067b7f02b71
Author: Andrei Pelinescu-Onciul <andrei@iptel.org>
Date: Mon Sep 3 21:27:11 2001 +0000

Initial revision
The corresponding Github link:
The Kamailio World Online Conference 2021 happened during the last two days to mark the anniversary. The event was live streamed, the sessions were recorded and they will be published on YouTube Kamailio channel in a matter of a few days. Its last session was a distributed virtual celebration party, with participants in a video conferencing room having a drink or a cake at the comfort of their couch or office, sharing memoirs and photos taken along the past two decades at various Kamailio and RTC events.
Today we continue with smaller offline events, including a festive dinner in Berlin with the developers and RTC friends around.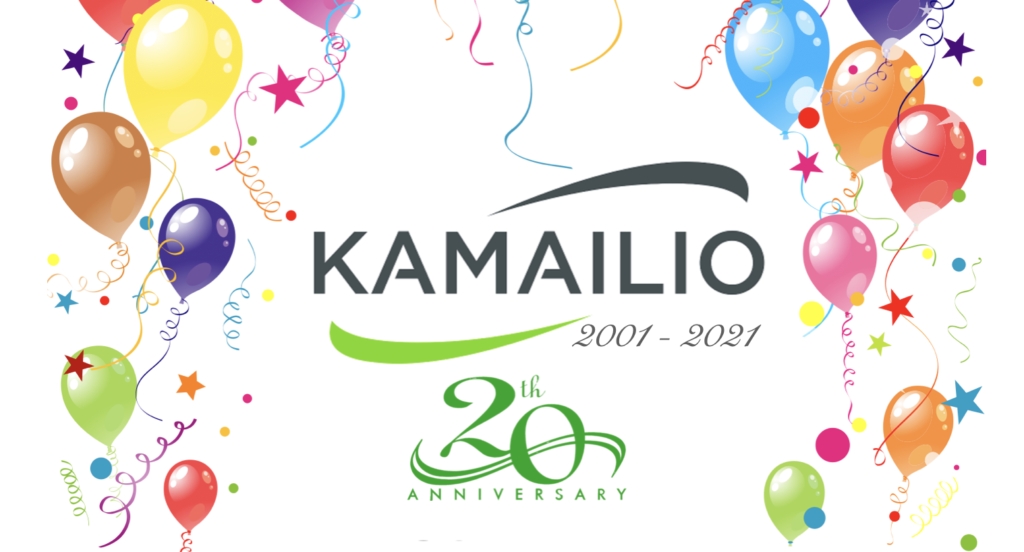 It is not easy to summarize 20 years of activity, but let's show some numbers from commit history and openhub statistics:
2001 – 2021: 20 years of continuous development
over 33 000 commits in the development branch (master), thus not counting backports and the other commits in stable branches – in average that's over 1 500 commits per year
released 142 official open source stable versions: SER 0.9.4 to Kamailio v5.5.2 – a few more should be in the 0.8.x and early 0.9.x series, but they are not tracked by project public archive
410 source code contributors
over 1 000 000 lines of code
an estimated development effort of 285 person-years (or a cost of over 17 000 000 USD corresponding to a 60 000 USD/person/year)
stable year-over-year development activity, with a large active team (in the top 2% of all project teams analyzed by OpenHub)
From a raw perspective, that's a huge overall material and time effort, which would not have been possible without the best resource of our project: THE COMMUNITY!
We went through many good times, but also bad moments, some really bad, we had to transform and meet the needs of evolving markets! Definitely not easy always, but together we succeeded to move things forward and keep Kamailio in the top of open source real time communications projects.
We believe that Kamailio project has made a positive impact to many people out there, enabling them to learn and innovate, build a carrier, start a business or just have some fun during spare time as well as make new connections and friends around the word!
Thank you all for contributing, supporting and promoting Kamailio – The Open Source SIP Server!
Here is to the next decade of Kamailio development!
Stay safe and healthy! We hope to see each other next year in Berlin at the Kamailio World Conference 2022!
THANKS FOR FLYING KAMAILIO!