The schedule for Kamailio World Conference Online 2022 has been published on the event website:
The event spans over two days, September 7-8, 2022, with presentations and open discussion sessions during 12:50-17:00UTC. With the main target to share the knowledge and connect the community, the conference has presentations covering use of Kamailio for 5G services, NAT traversal and integration with RTPEngine, TLS with WolfSSL, end to end testing testing, controlling SIP message content from KEMI and resources management for scalability. It is a good balance between established and new speakers at this edition of Kamailio World Conference.
There is no registration required to join the event, the sessions will be presented in a live video conferencing room streamed to YouTube KamailioWorld Channel. A text chat room will be made available for posting questions and background discussions.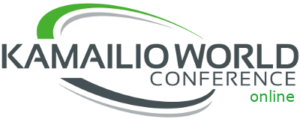 Book the dates in your agenda and prepare for another amazing Kamailio World Conference!
Keep the eye on the event website for updates!
Thanks for flying Kamailio!