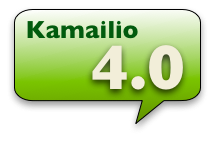 The 4.0 release is getting closer and we have frozen the code base. At this time, we're fixing reporting bugs, updating documentation and preparing the release. Now is the time for all users to step forward and help developers with preparing the release.
Test the code with your configuration
Check out the source from our GIT repository, build Kamailio and install with your configuration. Make sure you copy your database and test with a copy of the database. Instructions for checking out from GIT are here.

Verify the documentation
Any changes should be documented. All new functions should be documented. The IMS modules and the outbound module are still in last-minute documentation and bug fix mode, so they may be a bit behind.
Check out the new features
We are working on a document that lists all the new features. If they fit your needs, why not test something new?
If you find bugs, please open an issue on the bug tracker. If you want to discuss a possible bug or a potential issue, use the sr-dev mailing list.
Thank you for helping us with the coming release!