On September 3, 2001, the first line of code was committed to SIP Express Router (SER) project, since 2008 turning into Kamailio project. From pioneering large scale deployments of using SIP for Voice over IP in early 2000s, the project impacted the evolution of real time communications, disrupted the telecom vendors with its open source model and enabled many businesses to grow and innovate.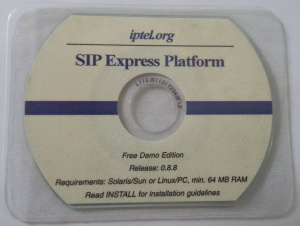 (SER v0.8.8 on limited edition mini-cd, released on September 2002)
Let's get together to a VUC session later this week, on Friday, Sep2, 2016, to share the good or bad stories while using SER or Kamailio during the past 15 years. If it made your life easy or a nightmare, it's time to tell it. If you have a funny photo or video, no matter is old or recent, join us and show it!
We started the celebration at Kamailio World Conference 2016, now we gather online of a non-technical debate of whether the project succeeded to deliver on its promises.
Several people already confirmed the participation, like Alex Balashov, Daniel-Constantin Mierla and Fred Posner. We expect VUC regulars such as James Body to be around.
Anyone can connect to VUC and listen audio or watch the video session via SIP, PSTN or YouTube live streaming. For more details see:
You can also join #VUC channel on IRC freenode.net server for text chatting.
Should you want to actively participate in the discussion, contact us via email at registration [at] kamailio.org in order to plan a bit the structure. Last minute joining is also possible, but a matter of capacity for the video conferencing system.
Thank you for flying Kamailio!