Getting closer and closer to the Kamailio World Conference 2017 – the 5th edition is just four weeks away!
The schedule has been published, with some adjustments still expected to happen. The event starts like the past edition with a half a day of technical workshops, followed by two full conference days.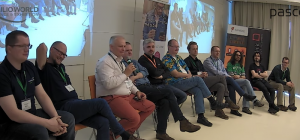 Thanks a consistent group of speakers the agenda is filled with topics that cover many of the interesting aspects of real time communications, from security and scalability to WebRTC and VoLTE, touching Kamailio and other open source projects like Asterisk or FreeSwitch. We will enjoy again the two sessions that never missed a Kamailio World edition: VUC Visions (open discussions panel) and Dangerous Demos (demo your crazy RTC idea in less than 5 minute and win one of the prizes in the game).
More details can be found on the website of the event:
We expect to fill again the capacity of the conference room, if you haven't registered yet and plan to attend, do it as soon as possible to secure your seat!
Many thanks to our sponsors that made possible this event: FhG Fokus, Asipto, Flowroute, Telnyx, Sipwise, Sipgate, Obihai, Simwood, Evariste Systems, NG Voice, Digium, VoiceTel, Core Network Dynamics, Pascom.
Thank you for flying Kamailio and looking forward to meeting many of you at Kamailio World 2017!