This year ClueCon goes online with the Deconstructed new branding. Three days (August 4-5, 2020) of sessions about FreeSwitch and the usual Real Time Communication topics.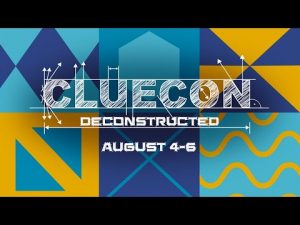 Kamailio will once again be well represented, with three sessions, one workshop about Getting Started With Kamailio by Daniel-Constantin Mierla on Tuesday, August 4, at 11:30-12:30 CST (18:30-19:30 Berlin) and two presentations on Thursday, one again by Daniel-Constantin Mierla at 13:30-14:00 CST (20:30-21:00 Berlin) with the title Kamailio for yourself or for millions of subscribers; and the other by Fred Posner immediately after, at 14:00-14:30 CST (21:00-21:30 Berlin), with the title Kamailio, FreeSWITCH, and the Half-Blood Prince (see the abstracts at the end of this post).
You can read more details about the event at:
The full schedule is published at:
The event is free to attend via a webrtc capable browser from the comfort of your office or sofa in the living room. The sessions should be also live-streamed to youtube, but if you register, you will receive the usual event swags sent to you by post and get the chance to win the big prize: the engraved MacBook Pro!
Be sure you plan your week accordingly to be able to attend the event as much as possible! At the end of each session you can ask questions to the speakers and interact with the other participants!
Abstracts for presentations
Kamailio for yourself or for millions of subscribers
The presentation focuses on vertical and horizontal scalability of Kamailio, what are its mechanisms, extensions and configuration options that can be tuned in the journey from serving a few connected devices to handling millions of subscribers and large number of active calls. What are the metrics to monitor in order to be prepared for growth, what can be added or removed to increase its capacity.
Kamailio, FreeSWITCH, and the Half-Blood Prince
Kamailio protects your FreeSWITCH from the dark arts as well as providing you true HA and scaling. Solid performance that you would swear was… magic.
Looking forward to interacting with many of you online next week during ClueCon Deconstructed!
Thanks for flying Kamailio!