In the users community forum, Nicki Bo Otte has shared his work of creating JavaScript stubs for KEMI exports that enable Jetbrains PHPStorm and Webstorm IDEs to offer auto-completion when writing Kamailio routing logic. The project is available at:
Its README includes more details, including a few screenshots, one being embedded below.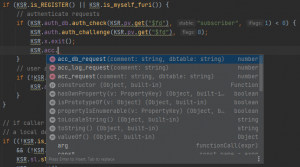 Maybe this extension can be adapted to be used with other popular JavaScript editors, like Atom or VSCode, the discussion thread on the forum having couple of replies on this topic:
Should you release or are aware of useful tools or extensions for Kamailio, do not hesitate to announce them to our community, we would gladly publish news articles about them on Kamailio project website.
Thanks for flying Kamailio!
Enjoy and stay healthy!